Bob Faulkner - Bass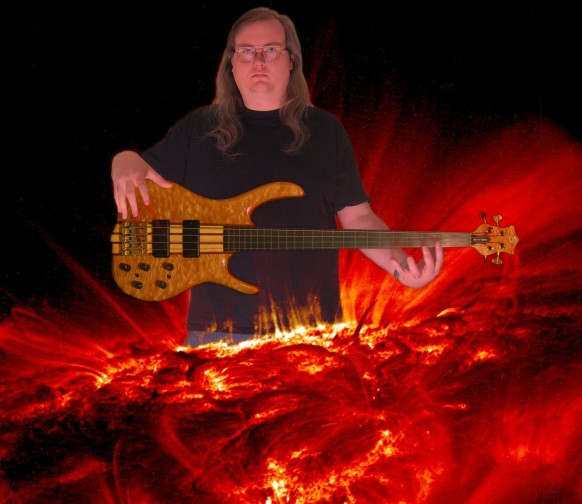 Bob started playing bass in January of 1992 after dropping out of high school. He started his musical journey due in large part to the inspiration provided by a good friend, Brian Watson. Brian had started playing bass and was extraordinarily good at it. Seeing someone so in love with his music inspired Bob to venture into this new realm.

He had always been interested in music from a young age and had played drums for a year in junior high school as well as dabbled in keyboards but he never found a sound/instrument that truely inspired him. He had always admired the awesome talent of people such as Geddy Lee of Rush, Cliff Burton of Metallica, and Steve Harris of Iron Maiden but never put it together that he could make this wonderful instrument come alive with his own thoughts and feelings.

Almost purely on impulse and boredom Bob decided that music was too important to him to not pursue it. On a cool January day, shortly after applying to college, Bob and Brian went to a local music store and test drove some used bass guitars. Bob was short on cash at the time so the budget limited him on what he could buy. He finally settled on a Lotus L700 4-string bass. It was light yellow in color and wasn't anything special.

He played daily through his stereo since he owned no bass amp and slowly got better. At about 6 months he started to jam with his friends who had been playing for some time already and bought a Peavey Basic 60 amp. This is when he started to jam with John Ward and Gray Sarandos, both of whom he'd known since high school. They jammed into early '93 when Gray settled out of the scene and Bob and John started to jam with Robert Riness. This trio continued to play together for some time until Robert moved to Texas.

These were the dark times. They went through a period during which little organised music was happening and all those previously involved jammed occasionally but mostly on their own or in other groups. Robert moved back from Texas but they didn't get back to jamming regularly for quite some time afterward. During this period Bob graduated from college with a degree in Electronics Engineering Technology and began his career in the computer field. He also got a Peavey Mark III bass head, a Peavey 2x15 bass cabinet, and an Ibanez TRB-100 bass guitar.

In May of '98 Bob and Robert moved into a rental house. Finally they had a basement in which to jam. They got John over there and brought Bob's brother, Rick, into the fold. They began to regulary jam and write songs and became more involved as time went on. These were good times and the birth of the Delusional Mind. Everyone was doing financially adequate to well and life was good overall. Bob bought a Peavey Firebass II bass head, Ampeg PR1528HE cab, a Peavey 810TVX bass cab, and a Peavey Unity 2002 16 channel mixer during this time.

In May of 2001 Bob bought a house and they turned the basement into a jam studio. Bob special ordered a Ken Smith custom fretless bass and it arrived in August of 2001.

In July of 2002 Robert moved out and decided to leave the scene.

After this event they started to concentrate on getting things recorded and available for the public. They began recording the tracks for their first album, what was to be a very long term and unrealized project.

Bob got together with and married his wife, John got together with and married his wife, and Rick married as well. This obviously had an impact on the amount of time they could consistantly put into the band. Delusional Mind entered a period where the jamming was more serious and productive when it occured, but also saw periods of inactivity when the other obligations in life were too hectic. Delusional Mind began work on their first album titled Insanity's Realm during this time.

In late 2006 Ryan Judkins joined the band on drums. This infusion added fuel to the fire to get the band on track to get the songs completed and recorded. Then, in July of 2007, Russell Eldridge joined the band on vocals and guitars. At last the vocal void had been filled. The band became much more serious about getting the album completed, recorded, and performing on stage.

During this time Bob started work on writing the song You Stand Accused. While Bob had written the lyrics for several of Delusional Mind's songs, and wrote the bass lines for them all as well, it was always done after the rhythm and melody were originated by group collaboration or other members. This would be the first song that Bob wrote from beginning to end, including the lyrics, laying down the fundamental rhythm and melody for the song.

On October 13th, 2007, Bob made his public debut performing on stage. After 15.5 years of playing bass he stepped out onto the stage, for the first time, in the Masquerade's Heaven venue in Atlanta, GA. Delusional Mind played a 40 minute set consisting of the following songs: After Me, Day Of Rain, Breaking The Law(Judas Priest cover), Insanity's Realm, All Alone, Nameless, Creeping Death(Metallica cover), There And Back Again, and Edge Of Lunacy. This experience reinforced in Bob the desire to write and perform music with Delusional Mind, and to push the envelope further. He played his 2nd show the very next week on the Purgatory stage at the Masquerade.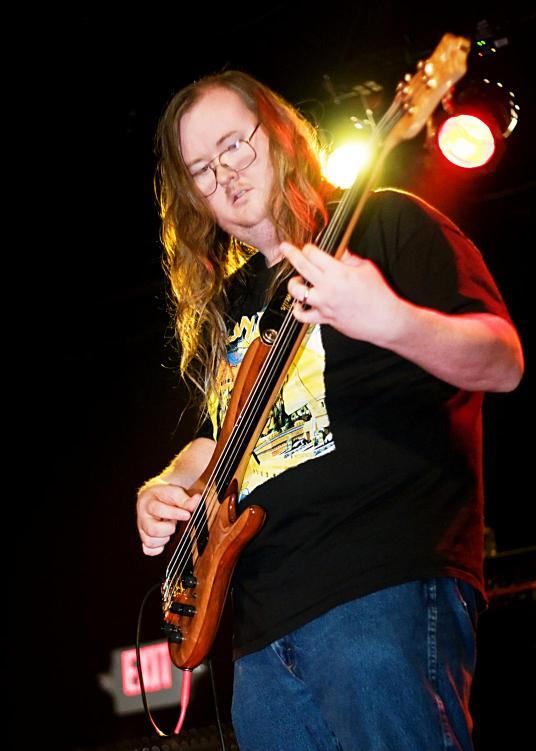 After these 2 shows, the band started working hard on getting the songs for a demo album recorded and expanding their stage experience. A series of shows were scheduled and played over the following 6 months with the time between filled with writing and recording new material.

After the March 7, 2008 show Delusional Mind took an extended break from playing shows to focus on writing and recording. This effort resulted in the release of their demo album, Death Grip, on November 8, 2008.

Following the release of the demo, they began an intense period of writing, rehearsing, and recording new material. Once ready, they stepped back onto the stage February 7, 2009 with a new arsenal of material. Combined with the older material they had a full 2 albums worth of music to choose from at each show. They played a series of shows that spring and fall, with a final show on September 18, 2009.

The desire to expand the show schedule and play venues all around the southeast made it clear that scheduling issues within the band would be untenable. The band decided to split up. Rick had a job offer that moved him out of state, and Bob retired from performing. John, Ryan, and Russ decided to form a short lived new band called Severity and then each moved on to other projects.

Now you know about how Bob became one with the Delusional Mind.


Record of public performances:
October 13, 2007 - Masquerade Heaven stage, Atlanta, GA.
October 20, 2007 - Masquerade Purgatory stage, Verus Music Festival, Atlanta, GA.
November 2, 2007 - Masquerade Hell stage, Atlanta, GA.
November 24, 2007 - Masquerade Hell stage, Atlanta, GA.
December 27, 2007 - Masquerade Heaven stage, Atlanta, GA.
December 29, 2007 - Sidelines Rock Live, Roswell, GA.
February 15, 2008 - 7 venue, Douglasville, GA.
March 7, 2008 - Masquerade Heaven stage, Atlanta, GA.
February 7, 2009 - Warehouse, Kennesaw, GA.
April 18, 2009 - Warehouse, Kennesaw, GA.
May 23, 2009 - Insomnia, Villa Rica, GA.
August 15, 2009 - Masquerade Hell stage, Atlanta, GA.
September 18, 2009 - The Local, Roswell, GA.
Bassists Bob admires: Steve Harris(Iron Maiden), Cliff Burton(old Metallica), Geddy Lee(Rush), John Myung(Dream Theater), and many more too numerous to mention.


Image of the sun used in Bob's picture provided courtesy of:
Transition Region and Coronal Explorer, TRACE, is a mission of the Stanford-Lockheed Institute for Space Research, and part of the NASA Small Explorer program.
Image of Bob on stage by Esa Ahola ©2007, used by permission.